A Little Bit Of My History
I first laced on a pair of skates at the age of four, when my mum took me to the local skating rink for a mother daughter skating session.
After doing the chicken dance on skates, I immediately fell in love with skating. I think it was the sensation of rolling, and the challenge of keeping balance.
The next thing I recall is wanting my very own pair of skates. This lead to lessons followed by competing as an artistic skater at a State and National level.
Little did I know 20 years later I would still be enjoying skating and would go on to establish my own successful business around the sport and recreational activity I enjoy best.
How I Ended Up Creating Rollergirl Promotions
In 2009, a good friend of mine, Tim Poulton, and I were chatting and he brought up in conversation that he wanted some roller girls to help out waitressing in the VIP area of Purple Sneakers, a highly successful Indie night in Sydney.
I told Tim that I use to be an artistic skater and would be more than happy to throw on my skates to help out. Shortly after I did my first Rollergirl gig waitressing in the VIP Room at Purple Sneakers.
The night was a great success and I went on to do a few more special events at Purple Sneakers.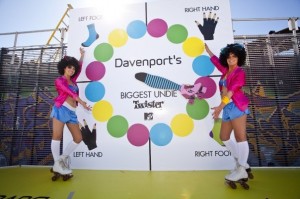 Not long after, I was approached by promoters for Davenport Underwear, they were preparing a product launch and they thought girls skating around in their summer underwear collection could certainly be a great attraction. They needed two girls.
So I approached Rebecca Cooper, and asked if she was interested. Rebecca and I had skated together for 10 years, so I knew she'd be able to do it.
Rebecca was keen and immediately became my first Rollergirl employee and assistant. So off we went to the Davenport Bondi Beach Promotion, complete with skates and much enthusiasm. The day was a huge success and a lot of fun.
Later that evening, reflecting on the fantastic day, and the recent interest in skating for promotions, I knew there was more I wanted to do, and knew there was more I could do. With some quiet hours of soul searching and jotting down realistic business ideas,
Rollergirl Promotions was created.
And Before Long, There Was RollerFit
Just two years ago, RollerFit began as a small group of friends and clients wanting to learn how to skate, our first few sessions were held at our local outdoor basketball court, as i was teaching them to skate and adding in fun exercises and games.
They all thought this was great fitness and way more fun than the Gym and it was then, RollerFit was created around my love of sharing rolling skating and living healthy. Now we are a nationwide program accredited by the Australian Sports commission in affiliation with Skate Australia. Not bad!
For more information on our RollerFit classes and class locations check out www.rollerfit.com.au l so you can get rolling.
Find Out How We Can Help You — Let's Chat
We don't do pre-built packages. Instead, we make sure we're the right fit for you, and design something specifically for your event.
Why don't you send me an email so we can have a quick chat (it's free), and see if there's a way we can add some rolling to your event.