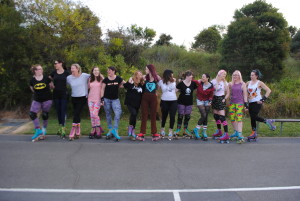 Challenge yourself and fellow colleagues, learn something new, or re-live your childhood, feel inspired get excited and have a few laughs along the way.
RollerFit workshops have the benefits of physical activity, team building exercise and skill development packed into one fun day.
Did you know Roller skating is equivalent to jogging in terms of health benefits and caloric, consumption, reduction of body fat, and leg strength development , Additionally, it reduces stress, increases self-esteem, and is a great creative outlet. RollerFit is the place where you can get out your leg warms, lycra and tubes socks while listening to the hits from the 70′s 80′s and 90′s.
Corporate RollerDisco:
The Top Five Reasons your office should have rollerDisco Christmas Party.
1. Roller Skating, Roller Skating seeing your  colleagues and client fall while Roller Skating. need we say more?
2. You'll be able to record your memories (and refresh it the morning after) with our very own Photobooth – perfect for photos for the office media wall!
3. More Spandex. More Wheels. More Babes. Seeing the lady from accounts wearing a lycra jumpsuit is a must do in every office. We also offer a costume service to make sure you get the perfect disco outfit.
4. The best hit from the 70′s 80′s and 90′s, from some of the coolest DJ's out.
5. Beer garden with flowing drinks and Saturday night fever cocktails. Alcohol and Roller Skating you may ask? dont worry we have all the safety needs covered with the bar separated  from the skating and St John Ambulance in the next room at your service.
Dancing, Skating and Drinking on 8 wheels, we bring a new spin on a corporate night out.
Find Out How We Can Help You — Let's Chat
Prices and packages are quoted upon application. So let's chat: