Rolling Experiences
Promotional Staff on wheels whether you are a corporation, small business, or a festival, we have the skills and attributes to promote your event. Our roller babes will become a part of your theme. We are extremely versatile and have the props, costumes, and of course the vibrant personalities.
Wicked Entertainment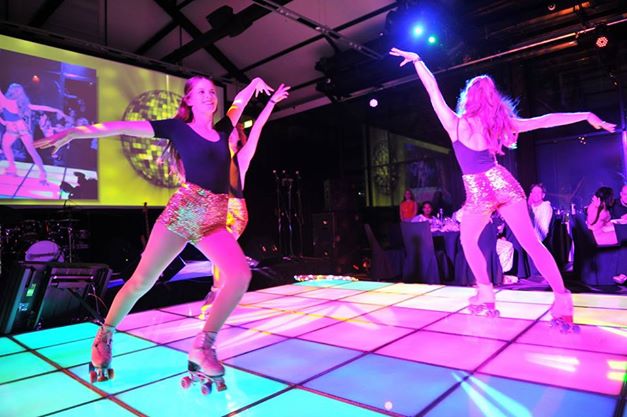 Our performances are sure to shock and impress your guests with our talented girls on skates. We're able design a performance for your event to fit into your them and space, with all our Rollergirls skating at National level you may see tricks on skates that you haven't seen since you headed to your local rink in the 80′s.
Roller Hula Hooping
Our multi talented girls can provided Roller Skating Hula Hooping Roaming entertainment, we can also provide full scale choreography roller hooping routines.
Corporate Events
Whether it be serving drinks at your work Christmas party, meeting and greeting guests at your next corporate seminar, or handing out gift bags at trade shows, Rollergirl Promotions can add that little extra to any corporate event.
Roller Waitressing
Our beautiful girls are definitely the perfect addition to your bar staff at your club night, festival or corporate events. Our talented skaters will roll on to provide fun and quality table service.

RollerDudes
Men more your style –Billy Büllseye Texass – has attidude and flair on roller skates. With a sparkle in his smile and a roll in his step he can bring the party to your next event.
If your vision is to create an event that is more than amazing and completely unique – our Professional Roller Skating team will help you make this happen!
Find Out How We Can Help You — Let's Chat
We don't do pre-built packages. Instead, we make sure we're the right fit for you, and design something specifically for your event.
Why don't you send me an email so we can have a quick chat (it's free), and see if there's a way we can add some rolling to your event.